Tim Smith, Sensei
Morristown & Hackensack, New Jersey
Tim Smith began karate study in 1984 with Shifu Hayashi at the age of sixteen. He has never stopped training and advancing his skills and today is one of the School's senior most active students. He graduated Rutgers University in 1990 and Duke University Law School in 1993. He served as law clerk to the Honorable Robert L. Clifford of the Supreme Court of New Jersey and is currently a Shareholder in the law firm, Kinney Lisovicz Reilly & Wolff, PC as a litigation attorney. Tim is one of three brothers who have all studied martial arts. Tim holds the rank of Rokudan, 6th degree Black Belt.
Nicholas Dillon Armitage, Sensei
Moose, Wyoming

Nick Armitage, originally of Madison NJ, began studying Isshin-Kempo with his two older brothers at the Madison Area YMCA in 1983 at the age of seven. At 13 he was the featured subject of a successful children's book, The Wind Warrior, Training of a Karate Champion written by Goedecke, which followed Nick's preparation for a NJ State Karate tournament. Nick became a junior instructor at the age of twelve, assisting for six years until moving to Colorado where he taught a college level karate program for five years.
In 1999 he received a B.S. in Mechanical Engineering from Colorado State University. Nick has worked in emergency services for over 20 years as a wildland fire fighter, ski patroller, EMT, and smokejumper. He now works as a ranger for the National Park Service in Grand Teton Park in mountain rescue and law enforcement. Nick is drawn to the wilderness and devotes his life to the synthesis of wild places and karate. Nick studies and teaches his Mountain Kempo Way in the Yellowstone region. He currently lives with his family in Wyoming. Nick has been studying karate for over 35 years and holds the rank of Yondan, 4th degree Black Belt.  Contact Nick at: mountainkempo@gmail.com
Roberto Andrade, Sensei
Chatham & Florham Park, New Jersey

Roberto Andrade L.Ac., has been studying Okinawan karate with the Wind School for 29 years. Blending his martial arts with the healing arts, he opened a clinic in Florham Park, NJ called Natural Integrated Medicine, where he practices a blend of Acupuncture, Herbology, Clinical Nutrition, Applied Kinesiology, and Neurology. In addition to his karate skills, Roberto has also studied Capoeira Regional and delved deeply into healing Chi-kung pratctices. Roberto holds the rank of Yondan, 4th degree Black Belt.   His website is at:  http://naturalintegratedmedicine.com/
Juan Pablo Barahona. Sempai
Madison, New Jersey
Juan Pablo joined the Wind School teaching staff in 2018. Originally from Buenos Aires, Argentina, Juan began karate at the age of eight, earning a black belt in Ed Parker's Kenpo Karate in 1994. He taught children from 1992-1999. After arriving in the United States in 2012, Juan renewed his interest and began studying with Shifu in 2013. Juan's two children, Ignacio and Sophia, are also both active karate students. Juan hold the rank of Sankyu, 3rd degree brown belt in Isshin Kempo and Shodan, first degree black belt in Parker's Kenpo Karate. Contact Juan at JuanPbarahona@hotmail.com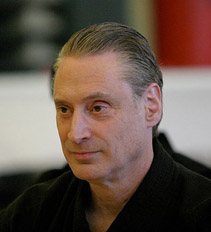 Jay Austin, Sensei
Red Bank, New Jersey
Jay Austin started karate in 1972 at the pioneering Bank Street School in Summit, New Jersey. Jay trained directly under the late William Scott Russell, Gary Benner, C. Goedecke and J. Kusimano. Jay took over as senior instructor in 1979 succeeding its former senior teacher, Gary Benner.
For over 26 years Jay has been a financial advisor beginning his career at Merrill Lynch in 1990. In 2004 Jay left Wall Street to form his own company, Quality Care Services LLC, which specializes in Life Insurance and arranging commercial and residential loans.
Jay has been practicing karate for 47 years. He holds the rank of Yondan, 4th degree Black Belt.  Contact Jay at jaustnj@aol.com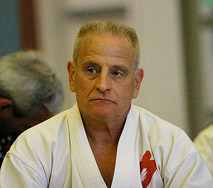 John Kralovenec, Sensei
Saratoga Springs Area, New York

John Kralovenec is an award winning physical education instructor, retired from the Greenwich, Connecticut school systems after thirty years of teaching. John offers private and group instruction in the Saratoga County area, New York. John earned a degree in Physical Education from Central Connecticut University in 1974 and his masters in Education at Fairfield University in 1982. In addition to his martial arts, John pursues a long-term hobby in antiques and landscaping. He's been practicing karate for thirty-seven years. John holds the rank of Sandan, 3rd degree Black Belt. Contact John at northwind701@earthlink.net
Scott Margo, Sempai
Colonia, New Jersey
Scott Margo, sempai, began training in Okinawan karate in 1989 after taking a class with one of Shifu's black belts. Scott graduated NJIT, Summa Cum Laude, and holds a Masters degree in Electrical Engineering. He is currently employed as Chief Design Engineer at Gulton Inc., South Plainfield, since 2006. Scott finds the psychological side of martial arts just as appealing as his physical training. He sees karate as a way to improve upon a broad range of human interactions while gaining a deeper understanding of one's nature. Scott is an assistant teacher at the at the Madison Area YMCA children's classes in Madison, NJ. Scott holds the rank of Nidan, 2nd Degree Black Belt.
Thomas Maloney, Sensei
Madison, New Jersey & Phoenix, Arizona
Thomas Maloney, sensei, originally from Phoenix, Arizona, is a 2010 graduate of Drew University, NJ, with a B.A. in Language Arts where he majored in Chinese. Tom's interest in martial arts began as a child watching martial art movies. In 2006, he took up study of Chinese Kempo in Phoenix. He began training with Shifu Goedecke as a Drew University freshman. In 2010, Tom chose to become a professional martial art teacher. He taught full-time for all the Wind School children's classes from 2010 – 2015. Tom was also the head teacher for the adult classes at the Connection. Tom is a certified Kettlebell instructor. He holds CKT 1 (Certified Kettlebell Teacher), HKC, and PCC (Progressive Calisthenics Certification). Tom has enjoyed competing in both kettlebell and karate tournaments. He holds the rank of Sandan, 3rd degree Black Belt. Contact Thomas at: thundergatemail@gmail.com   His website is at www.thundergateonline.com
Brian Vivas, Sempai
Madison, New Jersey
Brian Vivas took up karate at the Wind School in 2008. From a young age the martial arts called to his heart. When he is not training or teaching, Brian is an IT assistant at the Madison Area YMCA and an independent website designer. Brian is a 2012 Drew University graduate with a B.S. in Business. He first encountered Shifu Hayashi at the Drew University Karate Program. Brian is currently head of the Kinder Karate program at the Madison Area YMCA and the Kicks for Kids program at The Connection in Summit, NJ. Brian is a senior assistant teacher for all adult and child programs at these locations. He holds the rank of Nidan, 2nd degree Black Belt.  Contact Brian at vivas66@gmail.com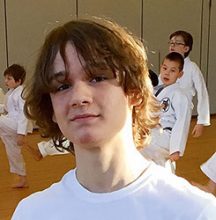 Peter Jordan Milich, Sempai
Madison, New Jersey
"PJ", as he is known by his friends, started training at the age of 5 at the Madison Area YMCA in its Kinder Karate program. Now 18, PJ is currently a senior at Chatham High School. At the suggestion of his parents PJ enrolled in the YMCA karate program following the footsteps of his older brother who studied with Shifu Hayashi years earlier. Since then his enthusiasm and sense of pride in his martial accomplishments has steadily grown. With twelve years of karate experience under his belt, PJ looks forward to advancing his teaching skills as an instructor in all the YMCA's youth karate classes. PJ will be attending Suny Maritime in the Fall of 2019. PJ holds the rank of Shodan, 1st degree Black Belt. Contact PJ at petermilich@chatham-nj.org